Hey guys! So I got a lot of stuff pending, the first thing being my 'How to Train Your Dragon?' review which was requested by a fellow follower and my Christian Grey analysis for my 'Fifty Shades of Grey' blog. However, I need to rant about something at the moment because through my 'Disney Princess' research I found something truly horrifying. I was open to give this franchise the benefit of the doubt, but when I stumbled upon this I was absolutely certain that this franchise has reached a new low. I present to you; the Palace Pets.
These abominations and crimes against creativity are Disney's answer to 'My Little Pony' and the 'Littlest Pet Shop' success (notice how most of the Palace Pets are ponies). Each of these bastards were carefully constructed to appeal to little girls by adding a shit ton of sparkles, ribbons, tiaras and CUTIE MARKS (I kid you not). The worst part of all of this? a) They talk, b) THEY ARE SUPPOSED TO BE CANON in the Disney Princess Franchise, c) The caucasian princesses get more pets than the minorities and d) It completely ignores the Disney Princesses REAL pets.
Let's examine these little shits one by one shall we?
Snow White's mutant rabbit; 'Berry'
During a stroll in the forest, Snow White found Berry hiding beneath a blueberry bush and immediately discovered her fondness for food. Berry's personality is gentle and graceful.
Now to be fair, Snow White is the Princess whom I find most...uh...'fit' to have a new pet. After all, she didn't have a pet in the movie unless you count the forest animals. A rabbit isn't a bad choice since they are quiet and sweet (even if they are huge stressballs). However, this...this THING...I don't even KNOW what it is! It's tail is incredibly swollen I mean...what IS that?! I don't trust this rabbit, look at its eyes...it's definitely hidding something under that fluffy monstrosity. Snow White needs to take that rabbit to a vet ASAP to check that pulsating growth growing out of it's butt.
Cinderella's pets; 'Pumpkin' and 'Bibidy'
Pumpkin was an anniversary present to Cinderella from the Prince! This glamorous puppy loves to attend royal balls, twirl and dance.
Now at first I didn't think this design was TOO bad...until I saw that it has earings. What the hell? Did Cinderella get this dog's ear's pierced? Also, Cinderella ALREADY HAS A DOG. His name is Bruno and he's an adorable Bloodhound that helped her get her happy ending. BUT NOPE, he's not a sparkledog so let's forget him. What kind of name is 'Pumpkin' anyway? I would give that name to a pet that resembles uh...a pumpkin? Oh wait...Cinderella rode in a carriage that was an enchanted pumpkin so...in honor of that, she names her dog 'Pumpkin'. Ain't that obscure?
She was given to Cinderella as a wedding present by the Fairy Godmother and she's Cinderella's most helpful pony and adores doing chores.
HOW CAN A HORSE DO CHORES?!?!??! They have no thumbs how on earth can this thing wash dishes? Oh and isn't that nice of the Fairy Godmother, she gives Cinderella an animal slave WITH NO FINGERS to do her castle work. Like 'Pumpkin', Bibidy has her ears pierced, why on earth would you make these design choices? Also, Cinderella has a horse. I don't remember his name but he usually hangs out with Bruno. Also he's wayyyy cuter and rideable.
Aurora's pets; Beauty and Bloom
Aurora met Beauty one warm spring day while on a walk in the garden. The sleepy kitten was snoozing beneath some flowers when Aurora scooped her up. Since Aurora found Beauty, they haven't left each other. This kitten adores sleeping and you'll often find her cuddled up with Aurora.
Awww get it? She was SLEEPING. GET IT?! SLEEPING. BEAUTY. So apperantly, Aurora found a pink deceased cat in her flowers and thought it was okay to just keep it?
Bloom was a gift from Prince Phillip, and Aurora loves spending time with her. She's the most charming horse in the stable and is a natural performer.
BWAHAHAHAH look at the expression in this horse, it definitely has bedroom eyes. Oh and 'a natural performer'? Well...by looking at her expression I probably have an idea on what she does at the stable and...I rather not say.
Ariel's ugly cat 'Treasure'
She is curious and playful, just like Ariel. Ariel and Treasure met during a trip aboard Prince Eric's sailing ship. Prince Eric's sailors found Treasure and kept her on board the ship, where Ariel met her. Treasure is very curious kitten that loves the water, but had always dreamed of life in a grand castle.
Okay so you expect me to believe that Prince Eric's rowdy sailors found a stray cat and decided to put her on the ship...because? Not only this but how can a KITTEN love water? I believe cats are afraid of water and hate getting wet. MOST IMPORTANTLY, CATS EAT FISH. To feed this thing Ariel has to sacrifice her subjects. Who the hell thought it was a good idea to give Ariel a cat? Seriously the people who designed these things weren't thinking at all. Also look at this horrid Treasure plushie;
i.ebayimg.com/t/Disney-Princes…
.
Belle's horrendous pets 'Teacup' and 'Petit
Belle and Teacup met one day in the village square; Teacup was entertaining a crowd by balancing apples on her head! Teacup loves shopping for accessories and she always chooses the perfect pieces for the occasion.
...I have no words. Belle, my favorite Disney princess, gets this PUKE as an animal companion. BELLE ALREADY HAS A DOG. He was previously a foot-rest and even HE had more personality than this horribly designed thing. Also, this is super weird but in the actual merchandise, the colors are completely changed. Its pretty bad that they feel the need to change the colors in the product that greatly stray from the actual design. That's how bad and halfassed this is.
Belle found this little pony on a winter day while strolling near the frozen lake. Petit is adventurous, strong-willed, and doesn't let anyone ride her except Belle.
BELLE ALREADY HAS A HORSE, HIS NAME IS PHILLIPE *cries*. What the hell? How can Belle ride this thing, its tiny! Her name is 'Petit' which implies that she's in fact a small horse. Why, why, why would Belle choose this useless thing over Phillipe?
Jasmine's OTHER tiger; Sultan
Jasmine found Sultan napping on a pile of precious silks at the market. This tiger may be small, but his bravery is a million times his size.
Wow, the shop owner must've been really stupid to let a mangy tiger sleep on it's precious merchandise. Also, JASMINE ALREADY HAS A TIGER. Rajah is most badass pet she could ever want, and he's also Jasmine's best friend. Why would Jasmine replace her current tiger with this one? I would actually accept it if this thing was Rajah's son but nope! She simply found a stray tiger in the marketplace.
Pocahontas's pet-...Oh wait she gets none because she's a minority. My mistake.
Mulan's half assed pet; Blossom
This lovely panda is the most cheerful pet one could wish for. Mulan met her during a banquet, when Blossom was hiding under her table.
THATS A PANDA? Good lord it looks diseased with it's purple hue and its abnormal tail. Oh and if I found a Panda under the table while I'm eating I would probably pass out. Also I may be repeating myself but Mulan already has 3 PETS. Khan her WAR HORSE, Cri-kee the cricket, and Little Brother the dog. But Mulan felt it was necessary to have an illegal pet as well. I hope she has enough bamboo to feed this thing before it tears apart her home.
Tiana's really lazily designed monstrosities; Lily and Bayou
Like her favorite Princess, Lily loves Jazz music and adores dressing up in her finest ragtime outfit.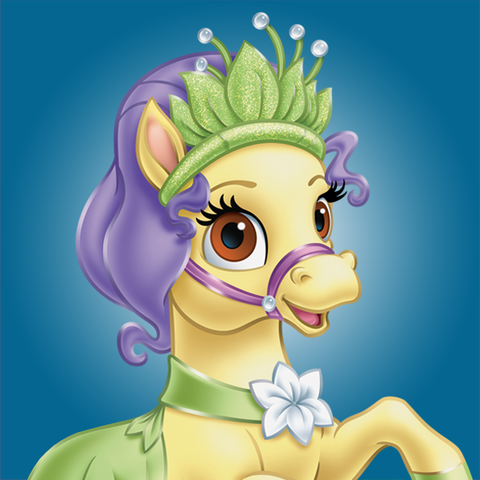 Every Princess loves a pony, and when Naveen's family gave her lovely Bayou, Tiana was happier than ever.
Where do I start with this? Okay so these are the two recently added 'Palace Pets'. After being blatantly racist by giving each caucasian Princess 2 pets (not counting Merida) and the minorites 1 (if you include Pocahontas, 0) they hastily design 2 pets for Tiana. Look at these things, they really do seem like they were designed in a rush and in the period of one day. Tiana's horse for example doesn't look as elaborate as Aurora's horse.
Rapunzel's pets; Blondie and Summer
Rapunzel met Blondie during a parade to celebrate the princess's return. Blondie is a brave and trustworthy guard pony. Blondie is also very sweet, and no one salutes as elegantly as she does.
A GUARD pony?! Are you serious? This pint-sized thing couldn't even knock you off your feet. I also love how they give these things saddles to give you the illusion that you can ride them despite the fact that you would probably snap their spine. Also since their manes and tails are long they will definitely trip while they run.
When Rapunzel found Summer, she looked matted and dirty, but...she knew what Summer needed: a home and pampering time at the Royal Beauty Salon! Summer and Rapunzel love to walk together in the meadows.
So Rapunzel ditched her life long pet and friend Pascal for a dirty cat she found in the street. Can you just imagine Rapunzel strolling around and finding this stray and going all valley girl like; 'OMG YOU KNOW WHAT YOU NEED, A MAKE OVER!~'. That's the impression I got with this 'backstory'.
Anyway, these are 'The Palace Pets' an uncreative spin off of the already horrid 'Disney Princess' Franchise. Its unknown whether new Palace Pets will pop up, but I beg you if you are a Disney fan don't buy these things or support this. Not only its a huge ripoff of other franchises but its a horrible representation of femininity and Disney Canon. Thanks for reading, and I'll be back with reviews soon!